Managing and tracking multiple client accounts can be quite a headache, particularly for large agencies. A huge issue we see with a lot of agencies just starting out is they are being added as a user to their client's Google Ads account. While this is ok this is not a long term solution as you can only be associated to so many accounts with 1 email. One way to streamline this process is through the use of Google Ads Manager Account, formerly known as My Client Center (MCC). In this article, we'll explore the reasons why agencies should set up a Google Ads MCC account, the pros and cons of doing so, and provide a detailed step-by-step guide on how to do it.
A Google Ads MCC (My Client Center) account, also known as a Google Ads Manager Account, is a powerful tool for businesses, agencies, or individuals who need to manage multiple Google Ads accounts. Here's why:
Centralized Management: MCC allows you to manage all your Google Ads accounts from one place, saving you the time and hassle of having to log in and out of individual accounts.
Cross-Account Reporting: The MCC account provides a unified view of the performance across all linked accounts. You can create and download reports that cover all managed accounts, giving you valuable insights into overall performance and facilitating data-driven decision-making.
Cross-Account Campaign Management: You can easily make changes across multiple accounts using the shared library, which includes features like shared negative keyword lists and audience lists.
Consolidated Billing: Google Ads MCC allows you to link the billing information for all managed accounts, making the invoicing process more efficient.
Access Control: MCC allows for various levels of access for different users. As an MCC account holder, you can give other users access to specific accounts, which can be especially useful for larger teams or agencies.
Easy Account Creation: With MCC, you can create new Google Ads accounts directly within your manager account.
The purpose of the MCC is to simplify account management, streamline reporting, and improve campaign performance for advertisers with multiple Google Ads accounts.
Why Should Your Agency Set Up a Google Ads MCC Account?
A Google Ads MCC account enables agencies to manage multiple Google Ads accounts from a single dashboard. This can be incredibly useful for agencies that manage the Google Ads accounts of multiple clients.
Here are a few reasons why:
Efficiency: With MCC, you don't have to log in and out of individual accounts. Instead, you have access to all your clients' Google Ads accounts from a single location.
Unified Billing: Google Ads MCC allows you to link the billing information for all managed accounts, which simplifies the payment process.
Easy Reporting: You can generate reports that cover all client accounts, which can save a lot of time.
Shared Library: The shared library allows you to share campaign negative keywords, budget, and other campaign elements across all linked accounts.
Performance Monitoring: You can view and compare performance across all managed accounts in one place.
Despite these benefits, there are a few potential drawbacks to consider.
The Cons of Setting Up a Google Ads MCC Account
Limited Account Access: If you only have access to a client's account through MCC, you won't be able to access certain features available at the individual account level.
Access Levels: The highest access level in MCC is "Administrative Access." If a user needs more permissions, you will need to grant them at the individual account level.
Shared Library: While the shared library is a boon, it can also be a bane if changes are made without considering their effects across all accounts.
Step-by-Step Guide: Setting Up a Google Ads MCC Account
Setting up a Google ads Manager account is pretty straight forward. We will break down step by step below how you can go about creating a MCC with Google.
Step 1: Sign in or setup a Google account
Before we start, please note that you'll need a Google Account to sign up for a Google Ads MCC account. If you don't have one, you'll need to create one. When creating a google account you can use your work email if you have it just make sure you toggle you want to use a work email address and it will walk you through the steps to do that. Otherwise just use a new standard gmail or a gmail account you are ok to have associated with this manager account.
Note: you can add other users as admin to this account later on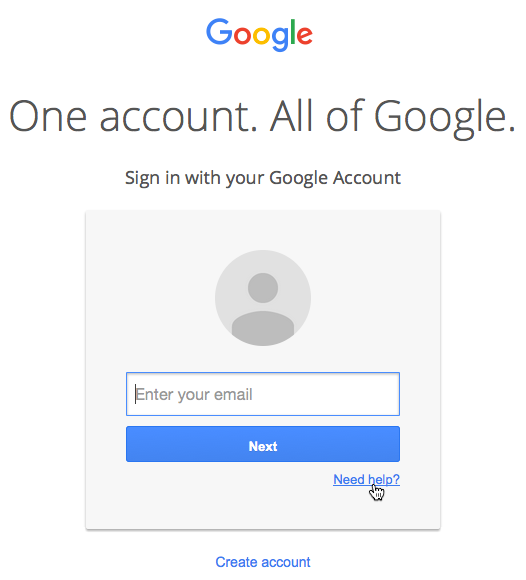 Step 2: Visit Google Ads Manager Account Page
Go to the Google Ads page at https://ads.google.com/home/tools/manager-accounts/ and click on "Go To Manager Accounts."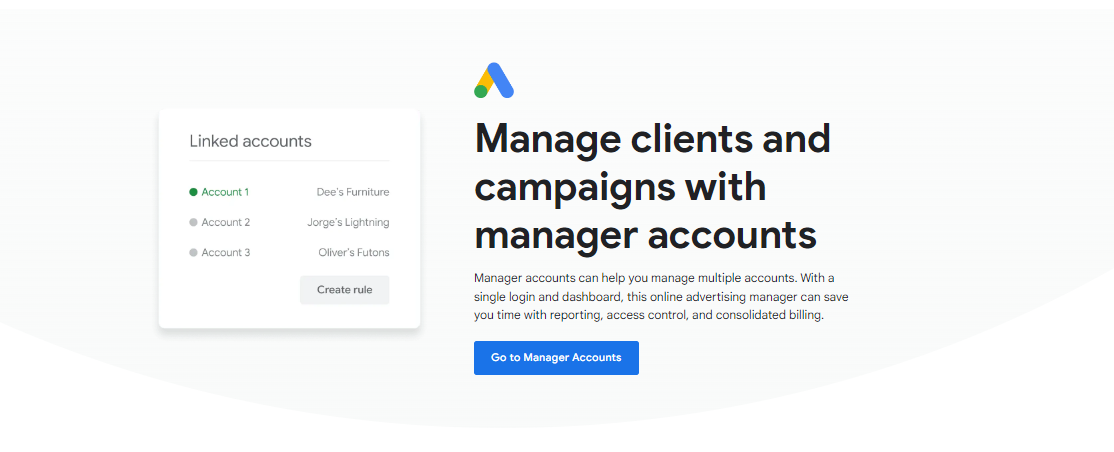 Step 3: Confirm Your Business Information
Confirm your business information and click "Submit." If you are not an agency and you just need a way to manage multiple accounts for your business select the "manage my accounts option" otherwise if you plan to manage other advertisers Google ads accounts select the first option.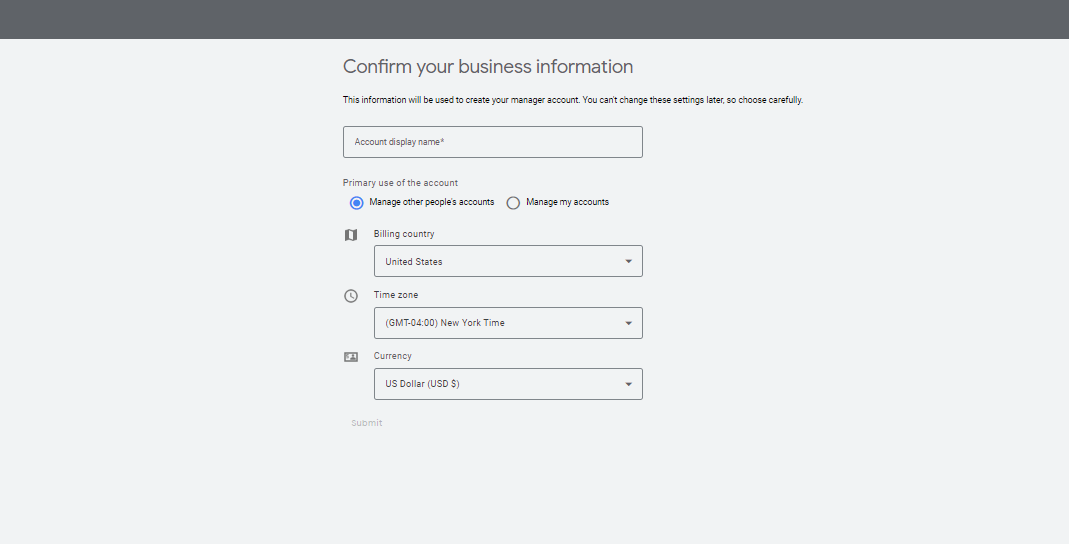 That is it! super simple and very easy. Now comes the fun part of connecting accounts to your Google ads MCC. The best way to think about an MCC is with nesting dolls. Your MCC is the most outer shell and now you can have other shells (accounts) under your account so you can easily move in and out of different accounts. You can see everything in one spot and manage things in a better way! Next we are going to show you the right way to connect other Google ad accounts to your MCC.
Step-by-Step Guide: Connecting Accounts to a Google Ads MCC
Here's a step-by-step guide on how to connect existing Google Ads accounts to your MCC account.
Step 1: Log into Your Google Ads MCC Account
Log into your MCC account.
[Image Placeholder: Google Ads MCC Dashboard]
Step 2: Navigate to the "Accounts" Section
Click on "Accounts" in the sidebar. From there it will auto highlight to "performance" just make sure you are on this part. If you have accounts already connected you will see them listed in the table. The image below doesn't have any accounts so nothing is there.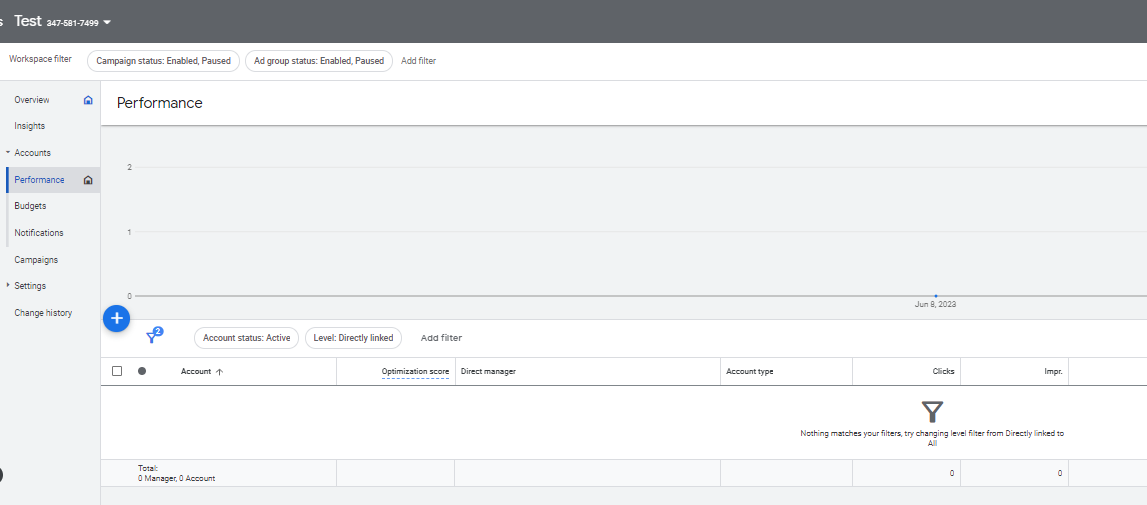 Step 3: Click on the Blue Plus Button
On the left-hand side of the page, click on the blue plus (+) button. Once you do this it will pop up a drop down of 3 options which are:
Create a new manager account
Create a new account
Link an existing account
For our purposes here we are going to be selecting "link an existing account"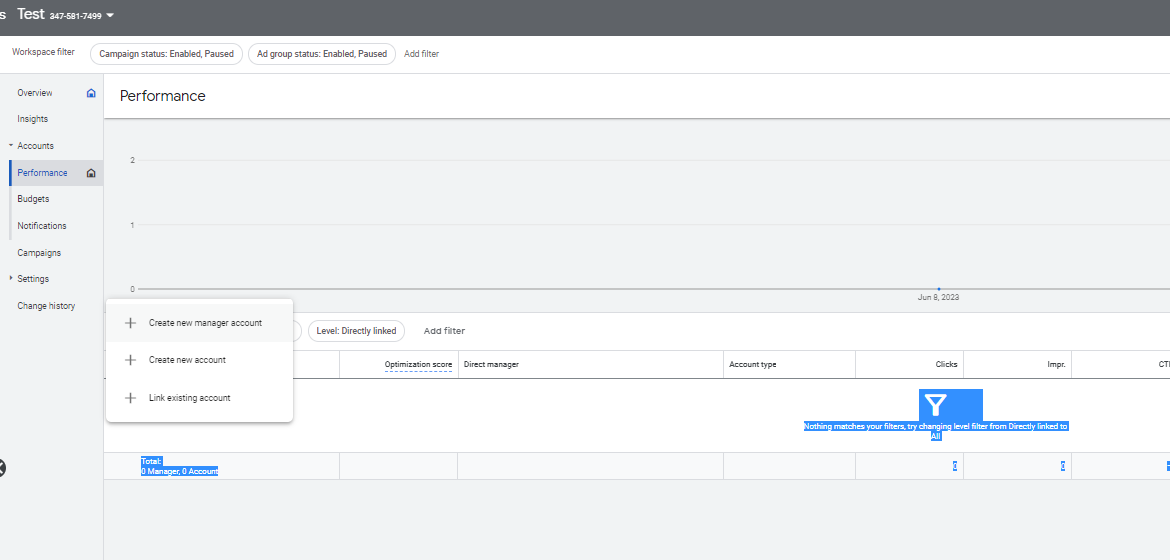 Step 4: Enter the Customer ID of the Account You Want to Link
Enter the account ID of the account you want to link – the client will have to provide this to you. They can find this in the top right hand corner of the account it is presented in this syntax (xxx-xxx-xxxx) just like a phone number. You will put that number or numbers into the field and then at the bottom hit "send request". Make sure you see a confirmation that states "request applied"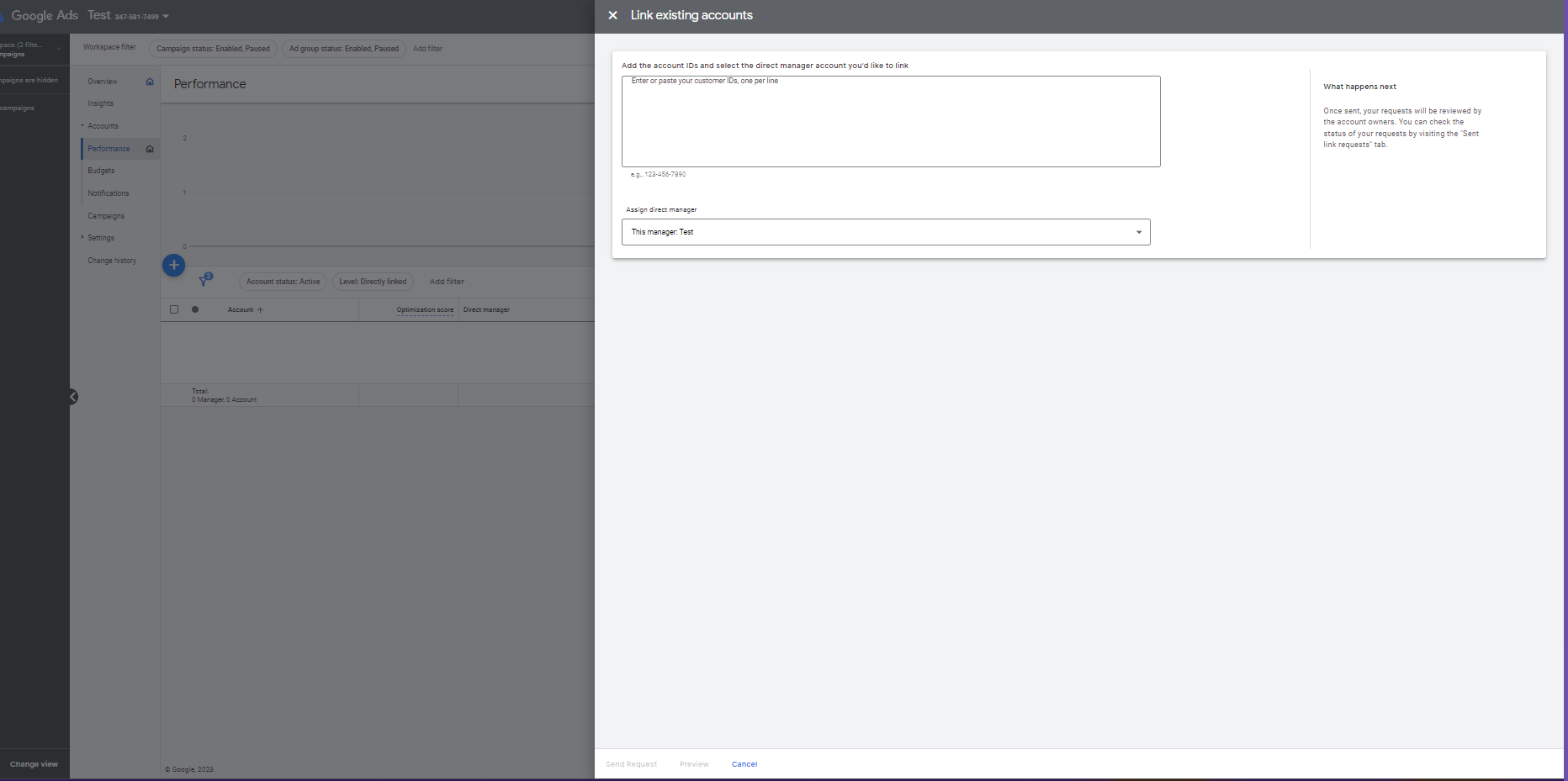 Once the account owner approves the invitation, the account will be linked to your MCC account. You will receive an email notice from Google that your request was approved or denied. Now the final step by step we will show is how to let the customer know and where they can go to accept the invitation.
Step-by-Step Guide: How to help a client accept a connection request from your Google Ads MCC
As with most things that can involve a client there can be some difficulties explaining to them how to approve the request. Sometimes Google will not send an email and link notifying them. If they are using a mobile device they will not be able to accept it from their Google Ads app. So it is recommend for them to use their desktop. Below are the steps and directions you can give a client/prospect on accepting your manager connection request.
Step 1: Have the client log into their Google ads account
The client will need to log into their Google Ads account on desktop. Make sure they are in the right account you had sent the link to. Sometimes clients can have multiple accounts and not realize it.
Step 2: have them navigate to the tools & settings section
In the top right corner when they are logged in there is a tab called "tools & settings" they will need to click on this to pop up the drop down menu.

Step 3: They will need to click on Access & Security
From here under the Setup column there is a section called "Access & Security" here is where all users and managers are managed for the account and additional security settings for those that are able to log in. They will need to click this next.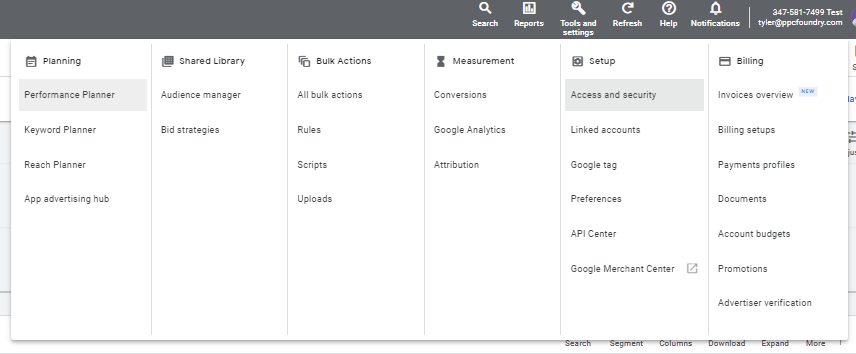 Step 4: Click on the managers Tab
From here they will be taken to a new screen that will show them all the users connected to this account. In the top left corner there is a tab called "Managers" they will need to switch over to this tab to view the connection request for this account.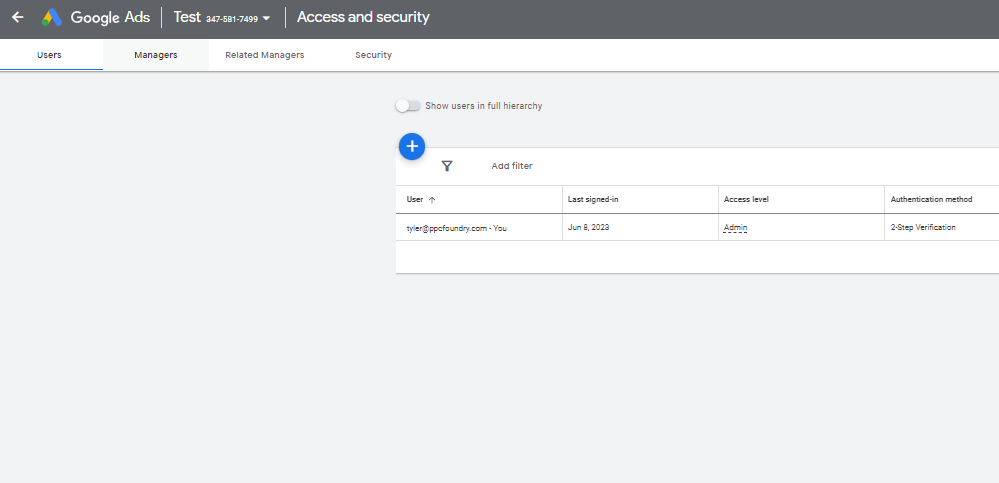 Step 5: Have them approve your connection request
Once they are on this page they will be able to see the connection request if it was sent out properly. They will just need to hit "Accept" and then "Grant Access". From there you will now be able to access their Google Ads account within your Google MCC.

Now you should have total access as a manager to work on this client or prospects account within your MCC. I hope you found this guide useful!