Making a connection between your Google Business Profile (formerly Google My Business) and your Google Ads account is pretty important for local advertisers running Google Ads. This ensures your business information is seamlessly incorporated in your ad campaigns, thus boosting local search visibility and credibility with potential customers.
Below we will provide an in-depth, step-by-step guide on how to link your Google Business Profile to your Google Ads account.
Why Link Your Google Business Profile with Google Ads?
Before diving into the steps, it's important to understand why you should consider this integration. Some of the most important reasons are:
Improved local search visibility: When you link your accounts, you enable location extensions, which show your business address, business hours, and more on your Google ads, enhancing visibility and drawing local traffic.
Enhanced user engagement: Ads with location extensions often have higher click-through-rates (CTR) as they provide relevant local information, encouraging user engagement.
Store visit tracking: Google Ads offers a "store visit" conversion tracking for advertisers, allowing you to understand how your online ads influence offline store visits.
How to Link Your Google Business Profile to Your Google Ads Account
Now let's dive into the process. Here are the detailed steps:
1. Access your Google Ads Account
First, navigate to the Google Ads homepage and log in with your credentials.
2. Go To Assets For Your Ad Account
Once you've logged in, locate the toolbar on the left-hand side of the page. Scroll down and click on 'Settings & Billing', then select 'Linked accounts'.

3. Add A new Location Asset In Google Ads
Here, click on the plus button. A new window will appear, showing a list of all Google Business Profiles associated with your Google Account.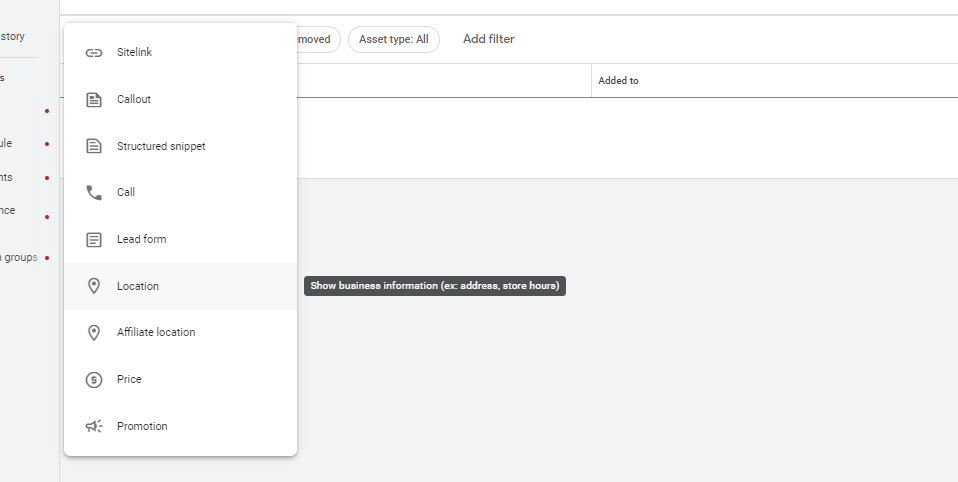 4. Select the Correct Business Profile
Choose the correct business profile you want to link to your Google Ads account. If you have multiple profiles, make sure you select the one that corresponds with the business for which you're running ads.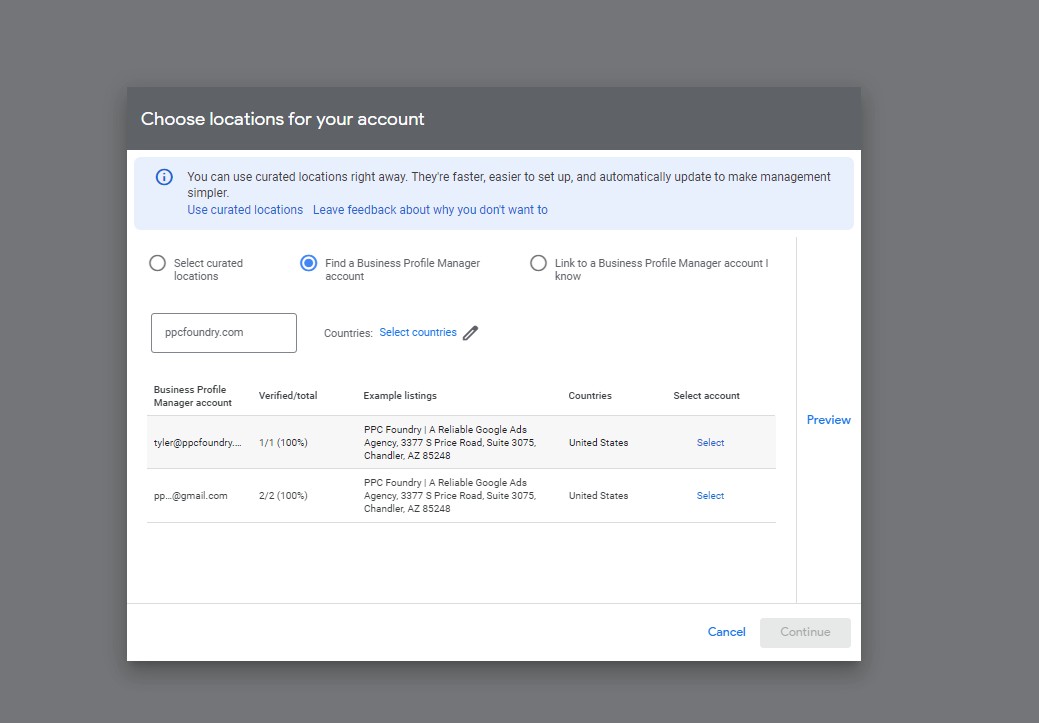 5. Send a Link Request
After you've selected the correct profile, click on "Continue". The next screen will have you confirm which connected locations to bring over. If you have multiple locations make sure you filter down which ones you want to bring to this ad account.
7. Accept the Link Request
If you're the owner of the Google Business Profile, log into your Google Business Profile account, navigate to the 'Users' section, and accept the link request. If someone else manages your Google Business Profile, they will need to accept the link request.
8. Confirm the Link
After the link request is accepted, go back to your Google Ads account, navigate back to the 'Google Business Profile' section under 'Linked accounts', and check if the status has changed to 'Linked'.
Now that your accounts are linked, you can start benefiting from location extensions and more.
How Do Local Search Ads Work?
Local search ads work by promoting your business to potential customers who are nearby or who are researching businesses in your area. They use your Google Ads bidding and targeting settings along with relevance factors such as the searcher's location, search terms, and more, to decide when and where to show your ads.
When you enable local search ads, your business can be featured at the top of local search results on both Google Maps and Google Search. The ad shows your business location, opening hours, and contact information, along with any promotions or special offers that you want to highlight.
Where Do Local Search Ads Show Up?
Local search ads appear in two primary places:
Google Search Results: When users conduct a local search on Google (for example, "coffee shop near me"), local search ads can appear above the organic results in the Local Pack or the Local Finder. The Local Pack is the small map and three business listings that appear at the top of the Google search results page. The Local Finder is the more detailed set of results users get when they click on "More places" at the bottom of the Local Pack.
Google Maps: Local search ads can appear in Google Maps on both desktop and mobile devices. When users search for a certain business or product within Maps, local search ads can appear at the top of the results list, labeled as "Ad." They can also appear on the map itself as a specially colored pin, distinguishing your business from others on the map.
How to Use Local Search Ads
Here are some best practices to maximize the effectiveness of your local search ads:
Set Up Location Extensions
As discussed in the previous blog post, you should link your Google Business Profile to your Google Ads account and enable location extensions. This allows your business address, hours, and phone number to show up in your ads, providing valuable information to potential customers.
Optimize Your Google Business Profile
Ensure your Google Business Profile is fully optimized with accurate information about your business. Include high-quality images, respond to reviews, and update your business hours. This increases the appeal of your business when it shows up in search results.
Use Local Keywords
Incorporate keywords into your ads that potential customers in your area are likely to search for. This can include your city or neighborhood name, landmarks, or other local identifiers. Google Ads Keyword Planner can help you find local keywords that are relevant to your business.
Set a Competitive Bid
The amount you bid on your local search ads influences where and when they show up. The higher your bid, the more likely your ad is to appear in the Local Pack or on Google Maps.
Target Specific Geographic Areas
With Google Ads, you can target your ads to specific geographic locations. This can be as broad as a country or as specific as a radius around your business location. It's important to target your ads effectively to reach the potential customers who are most likely to visit your business.