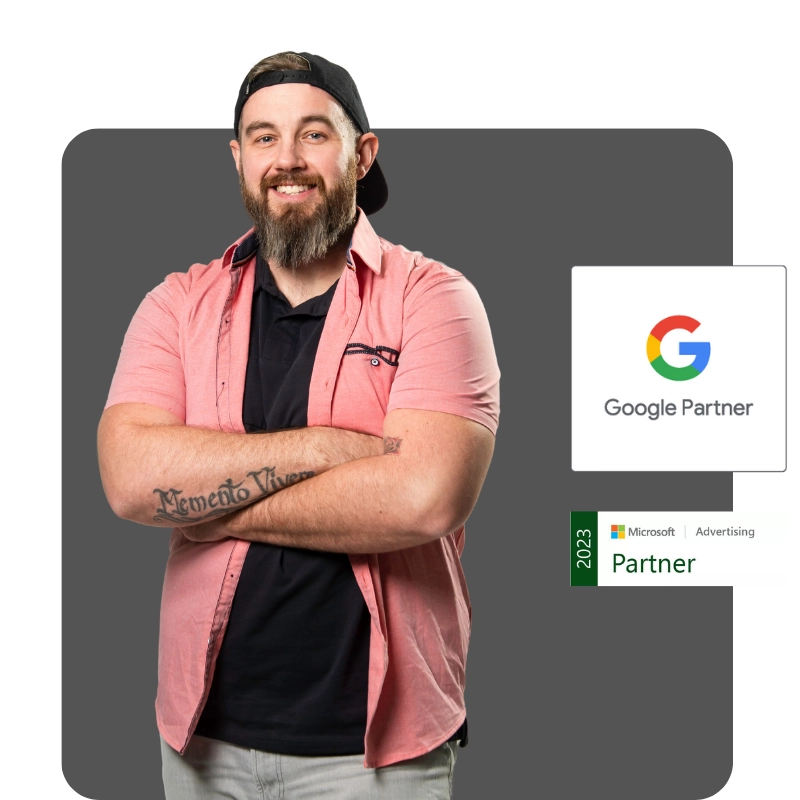 Ready For A White Label
Google Ad Shopping

Experience?

We specialize in helping agencies achieve their goals through expert Google Ads management which includes Google Shopping. Our custom-tailored strategies are designed to increase your sales, ROAS, and overall revenue, while maximizing ad spend. With our help, you can get the results you need to grow your client's e-commerce business and achieve your agency dreams.
Custom Tailored Google Ad Strategies
Ad Campaign Management By A Competent Team
Weekly Report Cards & Analysis with your branding
Transparency & Full Control over your ad account
A true partner in your business growth
Hello, Fellow Agency Owner!
Has your journey through the rocky terrain of Google Ads left you feeling like you've hit a dead end?
Are you tired of the parade of self-proclaimed "marketing experts" who promise the sun, moon, and stars but deliver, well, dust? Then buckle up, because you've just hit the jackpot!
Allow me to introduce myself: I'm Tyler Hanson, a battle-hardened marketing director turned Google Ads guru.
My adventure started with humble beginnings at an in-house position at a company that was raking in a respectable $3.5 million in yearly revenue.
With a sprinkle of my marketing magic and a whole lot of hard work, we catapulted that figure to over $8 million in just two years.
Oh, and did I mention we made it onto the Inc 5000 list not once, but twice during my tenure?
But don't be fooled. The journey wasn't all smooth sailing. I've had my fair share of wrestling matches with marketing agencies that were more about the sizzle than the steak.
So, after a few rounds in the ring, I decided it was time to redefine the game. I rolled up my sleeves, put on my thinking cap, and set out to show the world that there are marketing maestros who genuinely want to help businesses conquer the Google Ads mountain.
clear as crystal
Google Ads

Results to show your clients
One of the more annoying parts of marketers and agencies is the huge mystery they make metrics…
Giving companies a bunch of fluffy marshmellows of google ad data and cramming it into their client's mouth.
Don't get me wrong here…
Metrics are very important, but their is such a thing as analysis paralysis.
With that we don't spin data to get out of hard conversation nor do we want to just give you a bunch of numbers that makes it look like we are "working".
Each client of ours gets a weekly report card that ensures their main KPIs are front and center with a little taste of deeper numbers if you are a numbers nerd like us.
You can rest assured as well that your account, data, and spend are all yours. 
If you are with someone that doesn't allow you access or share this with you….
Just run…
SCALE YOUR
Google Ads

CAMPAIGNS with white label services
It's one thing to know how to setup and run the wild stallion of Google Ads…
It's another to know when to pull back and when to push forward though.
Just getting Google to work and generate business is the tip of the icberg friend.
So many business owners find themselves just playing around there though. 
Starting…Stopping…New Agency…New Freelancer… My Cousin took a course so they are gonna give it a shot. We've seen it all.
Once we take over and stabilize an account we then look at how can we start to scale. 
This comes with your overall business goals, but if you are getting $4 for every $1 you put in. Why not start the process of growth? 
It's not as easy though as one would think. There are multiple issues that arise when growing an account.
High CPCs, Increased CPAs, influx of bad traffic, Google pushing you to go broad… the list can go on and on.
We know the eb and flow of how to scale accounts and align them with your internal business goals. 
So really don't let your cousin just work on your account….
real
Google Ads

strategies that work
Google ads isn't so simple to find the next "hack" or secret setting to unleash a flood of sales and leads.
So I like to ask…
Why do agencies, owners, and anyone working in an ad account try to find these magic silver bullets that literally don't exist?
You think the gigantic black box of Google Ads algorithm can be mastered with one simple little trick that was posted on some LinkedIn article or blog from 3 years ago?
You may have tested these out yourself and found a big fat dud of a strategy and a nice bill from Google. 
Every account is different.
Every business is unique. Even in the same industry.
We consider ourselves Google Ads craftsmen. We aren't a one trick pony here. 
We have a arsenal of strategies we have battle tested and understand the signs and cues of when to use them and when to not.
so really…
Stop believing in the silver bullets and secret settings. It takes time, hard work, real strategies, and money. 
GET STARTED WITH EXPERT
Google Ads

White Label MANAGEMENT
If you're ready to embark on an unforgettable journey to the summit of Google Ads success, it's time to take action. Let's schedule a FREE strategy session where we can delve deep into your business goals and chart a course to achieve them using the power of Google Ads.
Don't miss this opportunity to join forces with a true Google Ads trailblazer who's been there, done that, and got the business growth to prove it. Click the button below to schedule your free strategy session, and let's get ready to conquer the Google Ads mountain together!