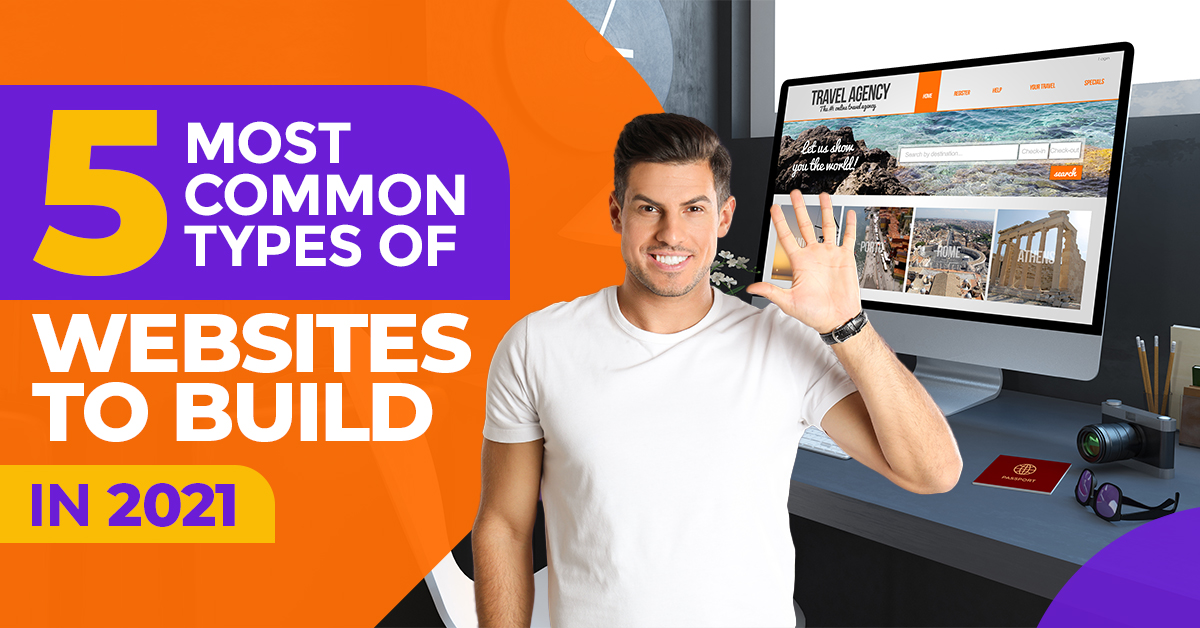 5 Most Common Types Of Websites For Businesses (2021)
Websites are the business cards of the world. 
It takes about 50 milliseconds (or 0.05 seconds) for users to form an opinion about your website. They will determine whether they like your business or not. They will also decide if they'll do business with you. Your website directly influences how an interested party views your company and its purpose. It's simple to start a website, but making sure it aligns with your company's goals… well that's another matter.
There are many factors that go into a professional website including speed, layout, and choice of colors. Building a great website is an ongoing process and it helps to have a plan before jumping headfirst in. One key factor when starting a website project is determining the type of site you want. 
With the above in mind, the following websites categories are some of the most common you will encounter while surfing the web:
Blogging Site
What is a blog? Think of a blog like a journal that is presented in reverse chronological order. The journal entries are referred to as "blog posts" and usually follow a similar format. The entry topics can be from a variety of things but usually focus on a central theme. In the case of this post, we are focused on web design.
Blog content usually consists of numerous articles written by different authors. The articles are related to the purpose of the site they are featured on. For example, retail site blogs tend to focus on highlighting products from the company catalog. There are news sites that focus on current events. School blogs may focus on school activities or developments. Regardless of the type, a blog ultimately serves the purpose of conveying information to a reader and converting them into a paying customer. 
One large benefit of a blog is the generation of traffic to your website. The more visitors that stop by to read your article for any length of time, the more popular your site seems. Direct website traffic isn't factored into a website's ranking: it's the amount of time visitors remain on your website that is very important. This is what makes blogs so effective. By its very design, visitors are there for a significant amount of time reading what has been published. This signals to Google that your site is trustworthy and that visitors find the content interesting! Google will then begin to view you as an authority on the service you specialize in. Starting a blog to help your business out is never a bad idea.
Business site
The business website is a critical component of any marketing plan that is intending to increase sales with the aid of the internet. The business type of website provides the main online presence for a company and is currently where most companies will funnel traffic. Business websites can be focused on information or be the main channel for all of a company's sales. It's usually up to the business to ask visitors to do something once they arrive. The numerous CTA (call to action) sections prompt users to contact the business for more information, or even go directly to a store page to browse products. How this process works will hinge on the previously mentioned marketing plan.
These websites tend to focus more on functionality, and the word choice on these types of sites is of paramount importance. Visitors will form an initial impression of the business and once they leave, the chances of them returning are slim. Your strategy here will need to be thoroughly planned out and be inline with your overall marketing plan. Your brand will need to be represented properly and you will need to deliver your mission statement effectively. It is also important to provide testimonials to give prospective buyers confidence in your products or services. 
Many business websites detail the history of the company and even showcase members of the team. It's rare to find a business website without an "about" page or tab. This is because people generally visit the site to learn more about the company itself. Displaying the company's details helps earn buyer confidence and may even lead to profitable business relationships. 
The business website should be the main choice for any company looking to drive sales via the internet. This type of site is SEO-friendly and can be scaled up as services or products are added.
Personal site 
These websites are designed to be more personal (as the title states) and are usually not associated with a licensed business or organization. The purpose of a personal site is to convey information that describes a single person or topic. Personal websites are commonly used to market an individual's career skills and to help them network with other like-minded professionals.
Personal websites can also be a blog that highlights an individual's hobby or interest with articles written by the site owner. Many times the blogs are public, but in a lot of cases they may be private for family members or close friends. The pages could be filled with opinions, religious beliefs or even something akin to diary entries. The blog layout suits this well and this explains how a site can be both a personal site and a blog at the same time.
Graphic designers, web designers, and any sort of freelancer would likely pick this type of website to showcase an online portfolio. For someone like a web developer, this gives them an opportunity to provide case studies of previous projects. The personal website is very common and if a person intends to work for themselves, this is a logical choice when deciding what type of site needs to be built. 
Media site 
Media websites vary greatly and this category can describe any sort of website that shares multimedia files such as videos, photos, or music. These sites sometimes allow users to upload or store their own media and share their content with other users. Almost everybody today is familiar with social media sites, but any sort of news or entertainment site is technically a media site as well. 
Generally speaking, unless a business is focused on media sharing or provides some sort of entertainment service, this type of site might not be a good fit. Media sites are basically a large database and they need to be fast. While a WordPress site may be capable of doing this, there is a lot of work involved as the site scales up. 
Brochure
The brochure website is a simplified version of a normal business website. This type of site will usually include a streamlined, very short history of the company. The idea here is to make the website very cheap, lightweight, and still able to display the company's purpose. The downside? This does, in fact, make the website less SEO-friendly. Since there will be less text for the visitors to pour through, the site will not retain visitors for any length of time. The visitors will click through the main page quickly in order to progress to the contact page. 
If a business has the ability to create a fully fleshed out business site, it is best practice to do so. Brochure sites may be good for a brand new company, but they're really just a stepping stone of sorts; The company will require something more if they expect to expand in the future. The only exception would be if the company had no intention of increasing sales with the help of the site. They might not require all the functionality of a fleshed out business site, and instead only have the site to have an online presence. They may have another means of generating leads. 
Deciding On Your Website
Overall, when trying to decide on a website, a company should thoroughly understand what their current marketing plan calls for and choose accordingly. The type of website that represents a company has a vital impact on the success of that company. Many business owners may not truly understand how important it is to get this right. After reading the above article, hopefully you can now work more efficiently towards achieving your business goals.
Are you ready to get started on building your website? Does your current site not align with your marketing objective now that you know the different types? We can make your website development pain free and super simple. Reach out today and our expert web developers will provide a custom proposal to address all your needs. 
GET YOUR FREE PROPOSAL HERE